several Madison schools are participating
in the national effort.
But there's one rub.
The Madison Metropolitan School District has a longstanding policy prohibiting children under age 10 from riding their bicycles to school without written permission from parents. Kids can walk alone but they can't bike alone unless there is letter on file at their school.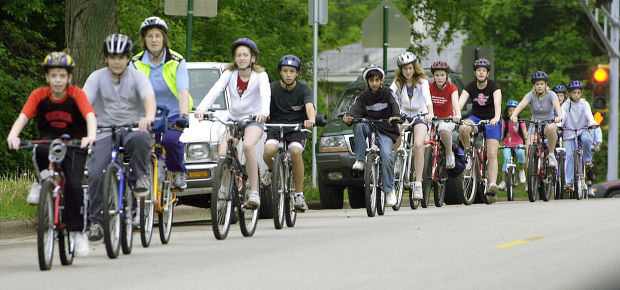 other kids
"Nobody really knows how long they've had the policy but I'm trying to get it changed," says Sonia Dubielzig, Safe Routes to School Coordinator for the Madison School District.
Despite the policy, Shorewood Elementary School is expecting more than half of the 450 students in grades 4K-5 will ride their bikes on Wednesday. To avoid any conflicts with the district rules, an officer from the Madison Police Department will ride with kids from the Eagle Heights area.
Bike to School Day has one problem: Kids under 10 can't ride alone to Madison schools : Ct