NEW YORK -- When Mary Walsh opened Swamp Rabbit Café and Grocery in 2011, the business had all the markings of a venture destined to fail. Rather than open up in downtown Greenville, S.C., the SUV-friendly town where Walsh and her business partner, Jacqueline Oliver, live, the duo set up shop in an abandoned storefront more easily accessible via bike trail. In a part of the country better known for pulled pork and fried food, Walsh's store offered organic hummus and kombucha.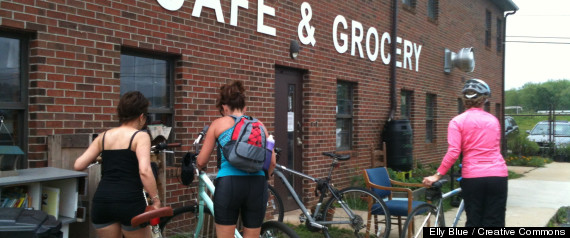 But two years after launching, Walsh says sales are going briskly, driven by customers who'd rather take their groceries home in a bike basket than a car trunk. A gym, bike shop and "environmental hair and nail salon" have opened next door, turning a site Walsh says used to be a crackhouse into a bike-focused strip mall.
While some may have called Walsh crazy for choosing to open her store along a cycling path, her success is part of a surge in bike-related business opportunities. With the initial economic hit from the Great Recession in the rearview mirror, both new and existing businesses across the country are tapping into changing attitudes about biking as a way to drive up traffic and put their sales into high gear.
Bike-Friendly Companies Doing Brisk Business As Bike Culture, Infrastructure Gains Ground