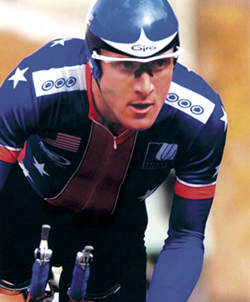 Another Alpha Cyclist
The American, currently serving a six-month ban from competition for admitting to using performance-enhancing drugs during his career, was photographed Saturday in what appeared to be a mountain-bike race dubbed the Old Caz Hopper, part of California's Grasshopper Adventure Series.
This brought up some concerns for the rider, who's not allowed to race any sanctioned events, per his suspension. Leipheimer said he took part to stay fit but asked to be left off the results sheet of the event, which is unsanctioned.
"First of all, I'm sanctioned and I take that very seriously. I would never jeopardize or do anything to prolong that," he told VeloNews Monday.
The Alpha Cyclist: Levi Leipheimer joins in unsanctioned mountain bike event despite suspension